Go back
Nuojua
Nuojua was the fourth hydropower plant built by Oulujoki Power Company. The construction started simultaneously with Pälli hydropower plant. Nuojua benefited from a propitious construction site. Builders could also utilize the construction base at Jylhämä. Because of these things, Nuojua had relatively low building costs.
Utanen & Ala-Utos
Jylhämä
See more
Continue
The construction of Nuojua started at the end of 1946. Roads, a railroad and a temporary bridge across Nuojuakoski rapids were built as preparatory works. The set of machinery was ordered from two Finnish companies, the turbine from Tampella and the generator from Strömberg.[1]
After the temporary dam was built, the construction for the actual power plant started. Builders could utilize Jylhämä´s concrete mixing plant so all the biggest casts were made during 1951. During the year, spillways and power house´s intake structures were finished on the north bank of the river. The power house was built with an in-situ concrete frame and facades were cladded with precast panels. The earth dam, 25 meters high, was built during the summer seasons of 1952 and 1953 and it was finished in October of 1953. The three sets of machinery were connected to the power grid on 25 July 1954, 14 October 1954 and 16 January 1955.[2]
Once Nuojua was finished, Oulujoki Power Company´s electricity production reached 1 billion kilowatt hours for the first time.
[1] Mauri Kuuskoski, Pekka Salminen, Jouko Vahtola, Paavo Vasala. Vesivoimaa Oulujoesta 50 vuotta: sähkölla eteenpäin. Oulu: Oulujoki Oy, 1991, 39
[2] Ibid, 40
Technical information
Owner: Fortum Power and Heat
Built: 1946-1955
Designer: Aarne Ervi, architect
Capacity: 85 MW, head 22 m
Power house: In-situ concrete frame, precast concrete panel and sheet metal cladding
Special features: Children and young people's home operates in the residential area
Protection status: Classified as RKY (Nationally significant built cultural environment - RKY 2009: Hydropower plants on the Oulujoki and Sotkamo routes), district plan, Docomomo site[3]
[3] Veli-Pekka Huhmo. Oulujoen vesistön voimalaitosarkkitehtuuria. Oulu: Humanpolis Oy, 2017, 78
Residential area
Nuojua has an average sized residential area with stone houses built in the late 1940s.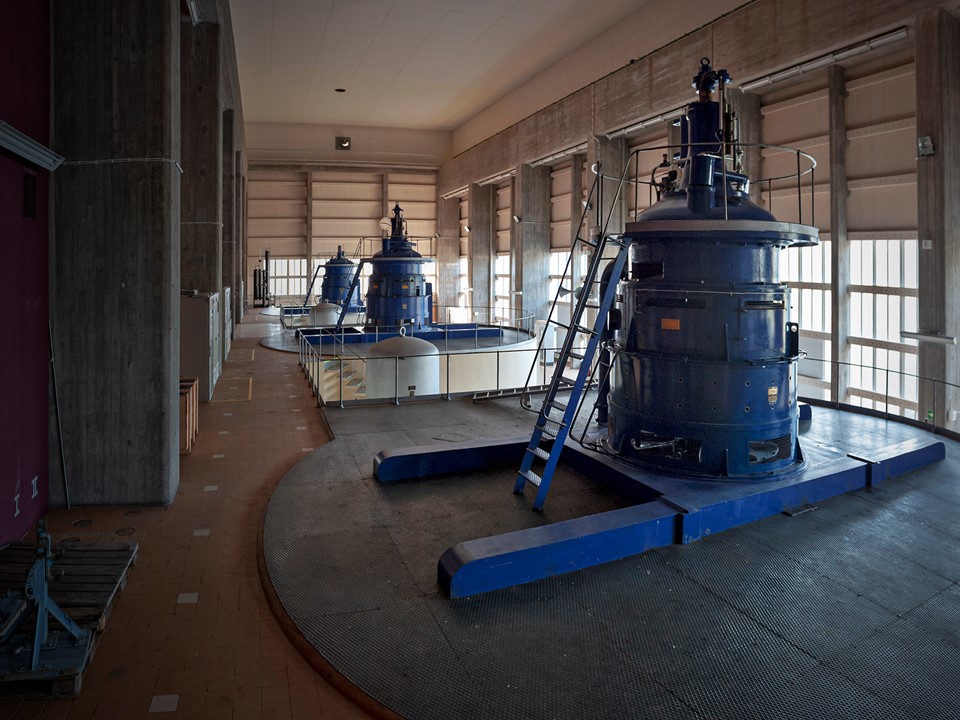 Here you can read other people's stories about the power plant. And if you have your own story, please share it. Whether you want it to be published on the site or not, we are interested in all stories.